How well do you know your customers?
Do you know why customers ultimately chose you and not your competitor?
Do you understand their purchase process?
What problems keep them awake at night?
Their work-around solutions and current frustrations?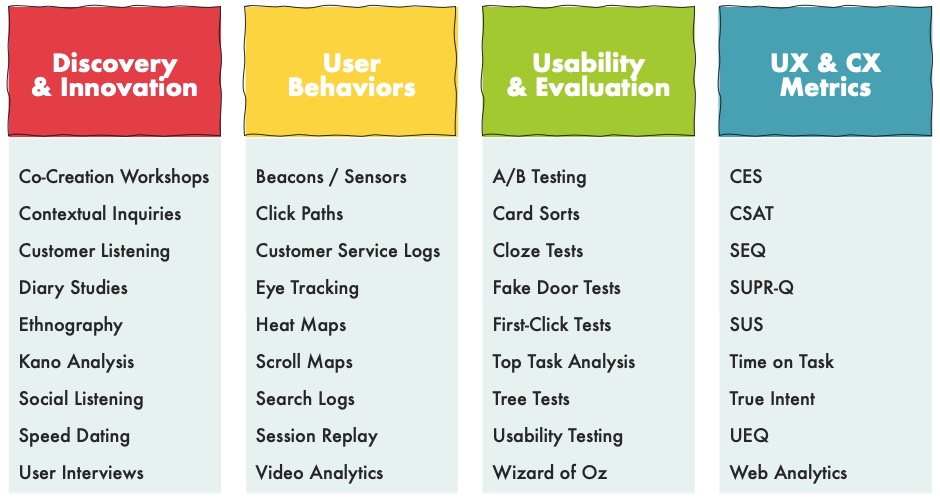 28 97 User Research Methods, Techniques, and Metrics
"UX research" is often mistaken as a synonym for usability testing. It turns out, there are multiple ways to get to know your users better. (And the list just keeps getting longer…)
3E (Expressing Experiences and Emotions)
A/B Testing / Multivariable Testing
Ad Test
Alpha Test
ASQ (After Scenario Questionnaire)
Beta Test
Big Data Analysis
Biometrics / Neurometrics
Blob Tree
Canary Test
Card Sort: Open or Closed
CES (Customer Effort Score)
Clickstream
Cloze Test
Collaboration Exercise / Co-Creation Workshop
Collage Study
Concept Test
Concierge Test
Conjoint Analysis
Contextual Inquiry
CSAT (Customer Satisfaction)
CSUQ (Computer System Usability Questionnaire)
Customer in the Room / Panel
Customer Listening
Customer Service Log
Customer Workshop
Desirability Test
Diary Study
ESM (Experience Sampling Method): Time- or Event-based
Ethnography / Field Study
Eye-Tracking Study
Fake Door
First-Click Test
FACS (Facial Action Coding System)
Focus Group
Forrester CX Index
Gallup CE3
Guerrilla Study / Café Study
Heat Map / Scroll Map
In-Depth Interviews (IDIs) / User Interviews
Internet of Things (IoT) Analytics
Jointly Told Tale
Kano
Keyword Analysis
Laser Analytics
Lifestyle Community
Linguistics Analysis
Mark-Up Study
MaxDiff
Memory Test
MUMMS (Measuring the Usability of Multi-Media Systems)
Mystery Shopper
NEV (Net Emotion Value)
Online Bulletin Board
Online Survey
Private Community
PSSUQ (Post-Study System Usability Questionnaire)
QUIS (Questionnaire for User Interface Satisfaction)
Read Against the Grain
Readability Study
Ride-Along / Shop-Along
SCI (Secure Customer Index)
Search Log Analysis
Self-Assessment Manikin (SAM)
Semantic Differential Scale
Sensors
Sentiment Analysis
Session Replay
SEQ (Ease of Use)
Social Listening
Speed Dating
Storytelling Forums / Booths
SUM (Single Usability Metric)
SUMI (Software Usability Measurement Inventory)
SUPR-Q (Standardized Universal Percentile Rank)
SUS (System Usability Scale)
Taguchi
Task Completion Rate
Text Mining
Time on Task
Tone of Voice Pairs
Top Task Analysis
Tree Test
True Intent
UEQ (User Experience Questionnaire)
Usage + Attitude Study (U&A)
USE (Useful, Satisfaction, and Ease of Use Questionnaire)
Video Analytics
Virtual Reality Study
Voice of Customer
WAMMI (Website Analysis & Measurement Inventory)
Web Analytics
Wizard of Oz Test
What other user research methods have you used? Tweet me @KristineRemer and help me keep expanding this list.
Nice List, What Do I Do With it?
In many cases, there is more than one research method you can use to better understand a problem. But, like medicine, there are specific cures for specific pains.
Use my UX research playbook to help you identify the best method(s) for your research goal. Experiment with different methods and techniques to understand your users better and in different ways—a form of triangulation and a way to get closer to the truth.
See also: 28 UX Research Deliverables
See also: When to Use Which UX Research Method
See also: UX Research Methods That Don't Include Users
Related Articles