Tired of getting beat by competitors on price, promotional offers, or product mix?
Fight back with a differentiated experience that solves customers' unmet needs.
Customer-obsessed companies are winning.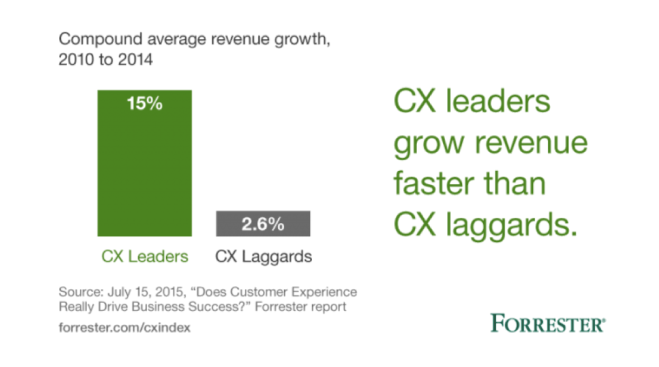 Companies that aren't, risk going bankrupt.
Innovation can be found by partnering with start-ups and gaining exposure to new ways of thinking and new technology. Partner, but don't acquire—70-90% of all acquisitions fail while partnerships are 3x more likely to make a positive impact.
Alternatively, you can innovate and differentiate your brand by more deeply understanding your customers.
Leverage your in-house entrepreneurs and engage them in UX research:
1. Find customer problems to solve.
If you already know your customers' problems, lucky you, you can skip this step.
If not, here are some ideas to get you started:
Observe customers using your product or a competitor's product. You can do this in person, through a screen share app (e.g., Zoom, GotoMeeting), or through a diary study.
Or, interview customers about the problem they are trying to solve and the barriers they encounter. You can do this in person, by phone, or Skype / Google Hangouts.
Or, talk to frontline employees who regularly interface with customers—salespeople, call center reps, cashiers, drivers.
Involve decision-makers in this process, so they see or hear customers' pain points first-hand. It will be significantly harder to build a business case without their direct involvement here.
2. Prioritize the top 3-5 problems to solve.
Here are some common ways to do this:
Conduct a dot vote with stakeholders. On a large wall, hang up descriptions of evidence-based customer problems, then give each person 3-5 dot stickers to vote for their top problems.
Or, create an impact-effort matrix in collaboration with stakeholders. Using a show of hands, vote whether solving each problem will have low or high business impact, and requires low or high effort to solve.
Or, conduct a customer effort score (CES) study by asking customers to rate the difficulty of solving a set of known problems. Analyze results, and then identify which ones are the most frustrating (or the company is best positioned) to solve.
When selecting priorities, be sure to get buy-in from decision-makers.
3. Design solutions.
First, look to competitors and analogous industries to see if, or how, others have already solved these same problems.
Use these findings as inspiration while brainstorming. Be sure to identify at least a few solutions for each problem—there are likely many ways to fix them.
Next, run a one-week or mini design sprint with stakeholders or the product team to develop prototypes. To be effective, decision-makers must be hands-on during the sprint.
Skip the next step if running a full sprint exercise that includes the final step: prototype testing.
4. Evaluate solutions.
Finding problems is easy, solving them is the real challenge. Not all solutions improve customer satisfaction or make a good business investment.
To uncover which solutions are innovative and create excitement, conduct a Kano study.
Developed in the 1980s by a Japanese professor and economist, this methodology inherently tells you which solutions are both unexpected and delightful (categorized as "attractive").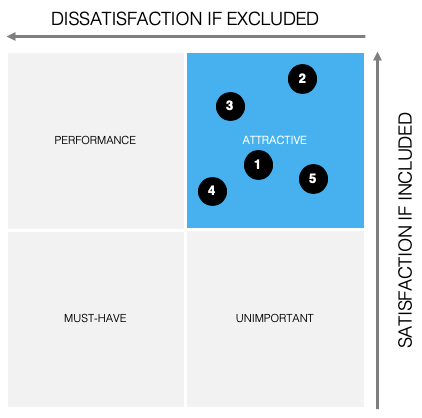 After each Kano session, ask customers to rank the "attractive" concepts from most desired to least desired. (If no concepts are rated as attractive, go back to step 3.)
5. Launch.
Investing in user experience isn't just the right thing to do, it's also good business. Design leaders make better decisions using prototyping and iterative learning.
If a full launch is considered too costly or risky, here are 4 ways to reduce risk:
Run a pilot
Build an MVP
A/B test
Run a fake door test
In Conclusion
Brand differentiation and innovation is just one of many benefits of continuously investing in UX research:
Improve profitability
Reduce customer complaints
Improve conversion rates
Increase employee productivity
Prioritize feature roadmap
Improve marketing spend efficiency
Related Articles