How many times have you run into a grocery store without a list—confident you will be able to remember everything you need—and then returned home missing one or more items?
It's not just you. It's hard to keep several thoughts in our brains at the same time.
Cognitive Load
The amount of effort it takes the average human to retain information in the short term.
There are at least 3 places where recognizing and minimizing cognitive load can make a big difference:
Reading
Even just reading information on a website takes cognitive load.
To illustrate what I mean, take a look at how differently NerdWallet and Chase display credit card information.
In the NerdWallet example, what does $400 and $603 mean again? I've already forgotten and now need to scroll back up the page. A quick solve would be to use sticky labels, or to do what Chase does — just repeat the column header labels for every row.
NerdWallet: More Cognitive Load

Chase: Less Cognitive Load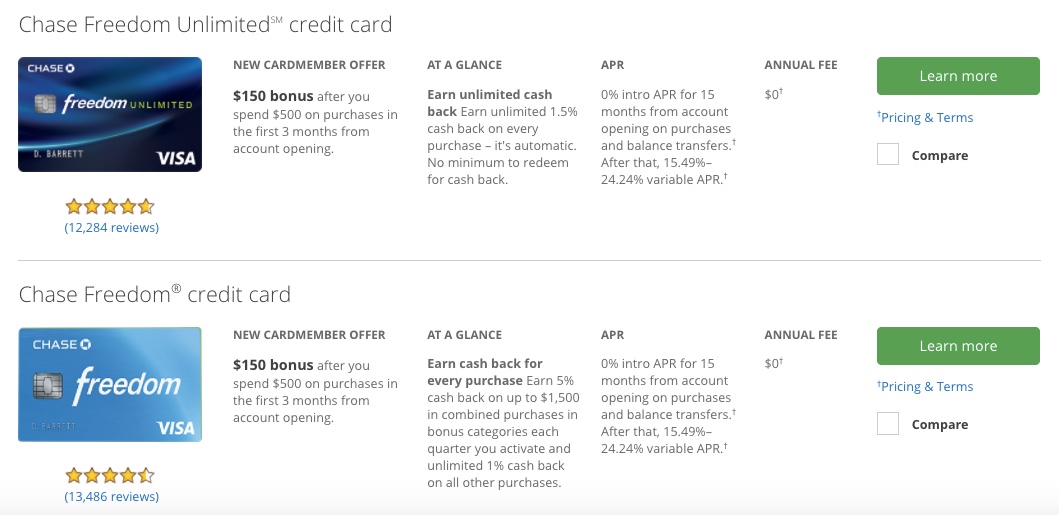 Completing a Multi-Step Process
Consider how users complete tasks and what information they need to complete a multi-step process, such as:
Writing a citation or filling in numbers from another source
Viewing a slide deck or video
Filling out an application for a mortgage, credit card, university admission, etc.
Registering for an account
Booking reservations for a hotel, car rental, airline, etc.
Is there critical information the user will need again later? How can you present it to them again or make that information easily accessible?
Making Comparisons
When shopping for complex products or services, we aren't buying solely based on appearance or price. There are other factors and compromises to consider:
Understanding the differences between 2 similar products. Why is this digital camera less expensive than this one? What are their shutter speeds? Which one had the higher customer rating?
Finding the product or service that has the best TOTAL price. How much is this product plus tax and shipping vs. the more expensive product with free shipping? Are there any hidden fees to consider?
Deciding which solution is the best value and the best overall fit. Where are all the hotels in my budget located? Which ones are near public transportation? What restaurants and sites are near this hotel vs. that one?
Talk to and observe your customers to figure out which information they're comparing, and then design an experience that diminishes cognitive load.
7 Ways to Reduce Cognitive Load
Design and write in a simple, straightforward way
Use filters for easier winnowing
Use sticky header labels
Use tables for easier comparison
Group similar concepts together
Be consistent
Use both audio and visual cues
See also: UX Word of the Day Index
Related Articles