I think we all agree? Every dimension of the customer experience needs attention. But who is responsible for pulling all the parts together into one cohesive, seamless experience?
The digital advertising team is out finding leads. The sales team works on converting leads, while the email marketing team optimizes their nurture campaigns. But who is focused on the entire lead experience from digital ad to landing page to email to sales presentation? And then what about the transition to onboarding? And ongoing customer loyalty and upselling?
Your CX team.
A CX team identifies gaps in the customer experience, and then helps to unify the end-to-end experience for all leads, prospects, and customers—online and offline. They can also determine whether different customers require different experiences.
What Are CX Team Responsibilities?
For every channel (e.g., call center, email, sales) and product (e.g., app, store, software, IoT product), the CX team is focused on improving business outcomes, customer value, user experiences, and usability as well as ensuring the experience across all channels and products is consistent and seamless.
The core CX team typically works as a center of excellence (inside an existing department like Marketing or as a standalone team), pulling in additional experts and partners as needed. At a larger scale, multiple CX teams work together to execute against a shared CX vision.
Other CX team responsibilities:
Defines & visualizes CX vision, strategy, and roadmap
Translates & communicates CX insights
Builds & maintains customer journey maps
Collects & analyzes CX metrics and journey analytics
Identifies customer segments & facilitates a deeper understanding of customers
Develops a customer exposure program
Develops & manages CX scorecard(s)
Gathers & integrates employee engagement metrics into CX
Facilitates cross-channel and cross-product collaboration
Stays up-to-date on latest marketing technologies
Educates others about the importance of empathy & CX
Who Is in the Core CX Team?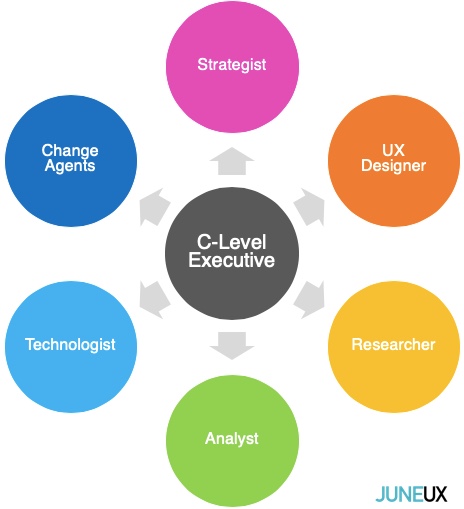 C-Level Executive – Unless CX is already embedded into everyone's role and company DNA, there must be buy-in, dedicated budget, and focus from the very top. CX is not achieved through bottom-up, grassroots efforts. (Not for a lack of trying!)
Strategist – In collaboration with the core CX team and other SMEs, the strategist defines the future state. Journey maps are great for alignment, but they don't make it obvious how to solve the problems identified. A CX strategist can clearly communicate the new vision and define measurable goals.
UX Designer – During design thinking workshops, design sprints, and innovation / strategy work, the designer brings the customer experience vision to life.
Researcher – A CX researcher gathers feedback from customers about their emotions and challenges, and then translates these findings into actionable insights.
Analyst – Your CX analyst pulls data from multiple sources to find patterns, trends, and predictions. They also help the team understand nuances by segment and ensure meaningful CX scorecards.
Technologist – Understands current technologies, systems, and data sources as well as capabilities and limitations. This role also researches and stays abreast of new marketing technologies.
Change Agents – Change agents are the leaders who can impact change where and when needed. CX intersects with every—or almost every—department in an organization. You need to find other leaders to be your voice and champion in order to move initiatives forward. Change agents are subject matter experts and have authority in their functional area or channel. These might be marketing leaders, sales leaders, HR leaders, and/or operational leaders.
What Are Common CX Team Challenges?
Among companies in the process of standing up a formal CX team, I primarily witness the following challenges:
A CX team with no authority or budget to impact change.
A CX team drowning in data, but unable to identify actionable insights or prioritize.
Here are a few ideas to get these teams started:
Look for CX champions. Someone somewhere has budget and the desire to improve their corner of the world, but lacks CX expertise or tools.
Start small. Look for the smallest possible place to start—something that requires no or very little budget to solve. Document every inch of the project, and then use it as a case study to demonstrate CX in action. Repeat.
Facilitate a future state journey map workshop. Bring 2 teams together along with their existing journey maps. Facilitate a hands-on workshop that ignites collaboration and cross-over thinking. By the end of the session, both teams should leave with an identical future state map.
Hire a CX consultant. If the team is truly stuck or spinning, bring in an outsider to gain a fresh perspective. One conversation or working session might be enough to unwedge the team.
Assess team competencies. Evaluate the skills on the team to determine competency gaps. CX professionals are problem-solvers, dot connectors, and strong communicators as well as empathetic, curious people. Does this describe your team?
Benchmark the CX. Gather CES, CSAT and employee engagement scores. Benchmark these and your journey map metrics against 1-2 competitors. Priorities will immediately appear.
Conduct qualitative customer research. Talking one-on-one with customers is the quickest way to provide clarity and direction.
Teach empathy. Start an empathy training with frontline employees. Create role-playing exercises to practice empathy skills. Employees are core to your customer experience.
In Conclusion
CX isn't just creating journey maps and collecting CES.
A successful CX team demonstrates over and over that solving the right customer problems, is—in fact—solving business problems.
Related Articles