Today, Lowe's drew the short straw for my latest relationship marketing case study. I chose Lowe's because it is a retailer that I spend a lot of time in — second only to the grocery store and Target. Plus, I noticed some areas of opportunity.
Even if your business isn't in the home improvement industry, I've included relationship marketing lessons here that can apply to most any business.
Despite My Loyalty, Lowe's Doesn't Know I Exist
My husband and I bought a "house of horrors" in 2007 seconds before the real estate bubble burst. The former owners were "no-clue-what-we're-doing DIYers," so the number of problems with our home has been limitless and appalling. For example, they cut through every living room floor joist to the point the upstairs was sagging. (What a fun surprise!)
As a longtime customer of Lowe's, it occurred to me that I had NEVER received an email from them. I even checked my email history to be sure. That's weird, right? So I headed over to Lowe's website to sign-up for their e-newsletter and instead discovered something called "MyLowe's."
I vaguely remember hearing about this program the last time I purchased paint. Intrigued, I immediately signed up.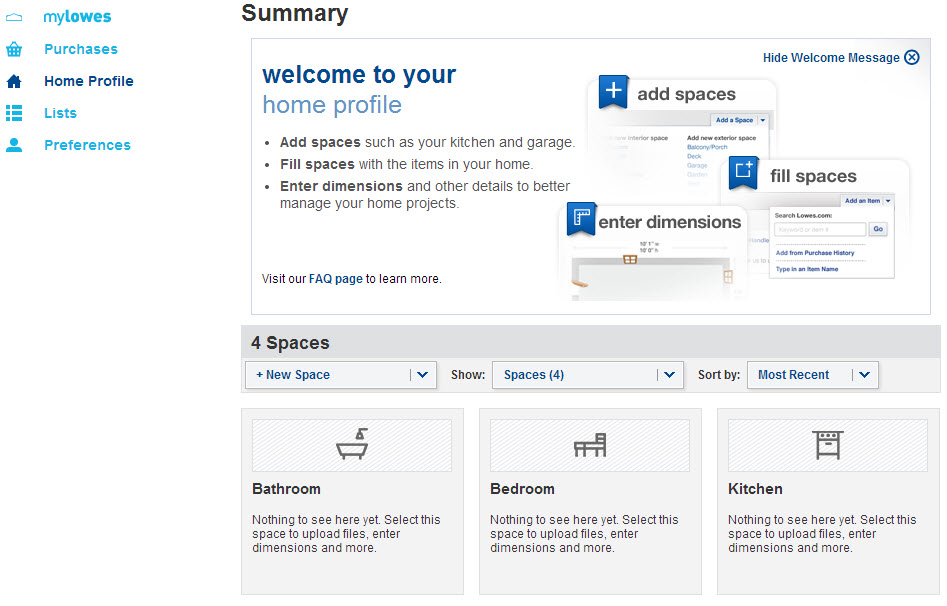 Now, the emails began to roll in.
I signed up for MyLowe's on Sept. 3 and immediately received a "welcome" email. On the following day, I received 2 emails: a promotional offer and a MyLowe's onboarding message.
Here's the "welcome to MyLowe's" email:
Next, I received 4 MyLowe's onboarding emails — one per week.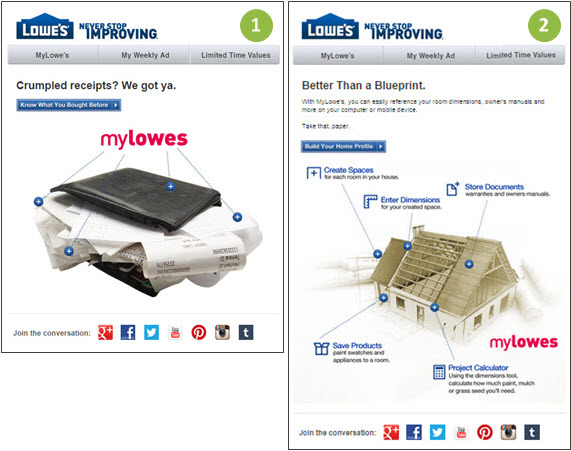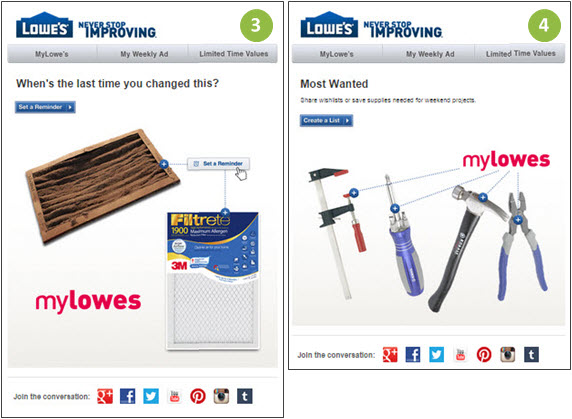 Here are all the emails I received the first 5 weeks after signing up. After the 4th MyLowe's onboarding email, the Thursday emails have switched over to regular "selling" emails.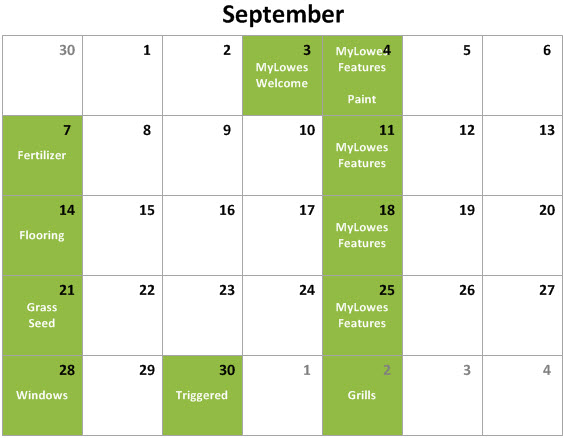 Here are the subject lines for each email. Green arrows denote MyLowe's emails, brown arrow denotes triggered email. (More about this later.)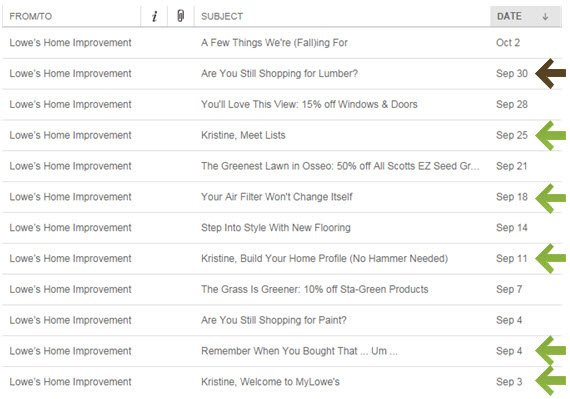 What Lowe's Gets Right: Educating & Entertaining Their Customers
If I had only read Lowe's emails and website, boy, would've I missed out.
Lowe's Twitter feed is all about helping customers — with quick tips, fun project ideas, clever animated gif tutorials, and speedy, personalized customer service responses.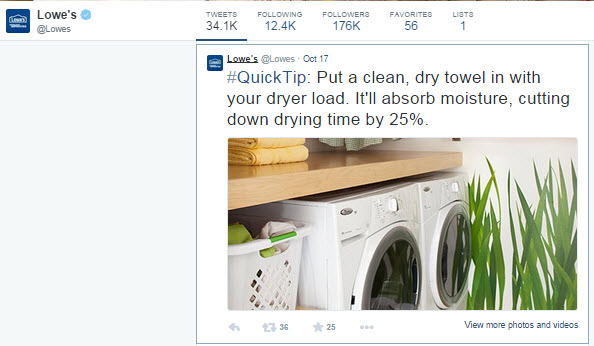 After comparing my email inbox to their eye candy-filled Pinterest, Facebook, and Instagram accounts, it's clear that Lowe's strategy is to use email to sell, and social media to educate and entertain.
Relationship marketing learning opportunity #1: Lighten up, stop selling all the time, and be where your customers are. Use social media to experiment with visual content. Take note of the different images Lowe's shares on Instagram vs. Twitter — the tone is quite dissimilar. Know the audiences of each before you jump in.
What Lowe's Gets Right: Using Video Tutorials Prominently on Its Mobile App
Mobile and video go together like chocolate and peanut butter, and so I was so happy to see Lowe's had figured this out, too. Their mobile app videos are short tutorials, hosted by someone (presumably an actor) wearing a red Lowe's vest. In each video, the host clearly lays out which tools are needed to complete the project. (Helping AND selling = brilliant.)
The app is so well-designed that I wish Lowe's would do more to promote it. Right now, there is just a small CTA at the bottom of every email.
Relationship marketing learning opportunity #2: When your in-store sales team isn't available or call center is closed, short video tutorials are a great substitute to answering customer questions, giving customers confidence, and even upselling your products or services.
Relationship marketing learning opportunity #3: Cross-pollinate your marketing efforts. Help your customers develop a deeper affinity for your brand by promoting your best tools and information.
What Lowe's Kind of Gets Right: Creating a Personalized Online Shopping Experience
Upon signing up for MyLowe's, I had the option to create a shopping list by room, add dimensions of each room in my house, and set up purchase reminders. What an awesome way to help me organize my purchases and home improvement projects. Except it's not.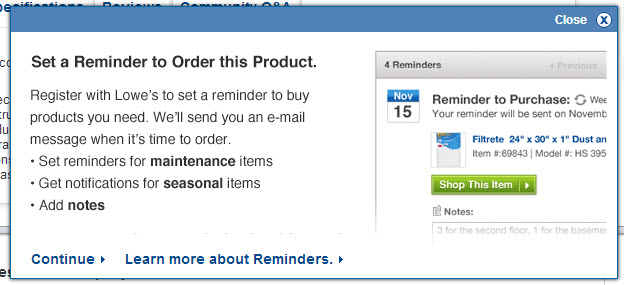 You know the saying, "good idea, bad execution?" (Upon Googling, it turns out that I did not coin this phrase. Oh well.)
MyLowe's is a great idea in theory, but the user experience is a nightmare. After saving a product, I then have to go into MyLowe's to move it to the proper list. Why not have users choose the correct list as they're saving the item? Why the extra step?
Holy moly, this online tool has features galore:
I can add notes about the saved product (OK that seems useful, but I could do this just as easily on Pinterest.)
I can change the name of the product (Uh, why would I do this?)
I can set a one-time or reoccurring reminder to purchase the product (Nice idea, but would I really do this at Lowe's?)
I can add a Pinterest-like button to my browser to save any product on any website to MyLowe's (Nope. I'm not making this up.)

Relationship marketing learning opportunity #4: Creating a customer account is an excellent way to begin a relationship with a new customer and encourage existing customers to keep coming back. Just make sure there is a fair value-exchange. No one is going to create an account on your website just because.
What Lowe's Gets Wrong: Sending Personalized Emails that Are Creepy, Yet Not Relevant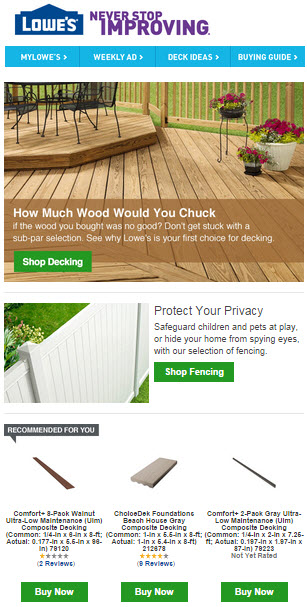 Lowe's obviously has a segmentation engine in play because within a day of viewing lumber on their website, they sent me an email called "Are You Still Shopping for Lumber?"  (Emphasis mine.)
That's fine if you want to send me a triggered email based on my browsing behavior, but you grossed me out when you said "still." Can't it just be a happy coincidence that you sent me an email about lumber?
First Lowe's creeped me out. Then they confused me. I'm not shopping for decks or fences, I just needed ONE piece of wood for a craft project. Why are they showing me products unrelated to what I actually browsed for?
Relationship marketing learning opportunity #5: Don't point out that you're spying on your customers. Be cool, dude.
Relationship marketing learning opportunity #6: Keep behavior-based emails simple. Don't make assumptions about why a customer was looking at your website. Instead, use quantitative research to learn the "whys" behind their behaviors to build out more sophisticated segments.
What Lowe's Gets Wrong: Recreating Pinterest
There are so many better uses for a MyLowe's concept rather than creating an online pinboard for home improvement projects. Duh, it's called Pinterest.
Here are 4 better ideas:
Save me an extra trip. You're the experts, help me make sure I don't forget anything while I'm STILL AT THE STORE. Allow me to scan items in the store with my phone, and then recommend related items and tutorials to ensure I have everything I need before I drive home.
Save my window dimensions and other obscure measurements. MyLowe's must have removed the dimensions feature before I could try it out. But it looked like you could add basic dimensions for each room. That's OK if I'm filling up an empty room with furniture (uh, never) or painting walls (rarely), but usually I'm doing small projects — such as looking for the perfect side table or buying new window treatments. Or I write down the outer dimensions of my window, but didn't know I also needed to measure the depth until I'm standing in front of the window shades in aisle 7. Doh!
Create a personalized home maintenance plan. After 10 years of being a homeowner, I still don't know what I should be doing and when. Create a personalized home maintenance plan based on my type of home and location. When should I fertilize, when should I replace the furnace filter?
Use an onboarding process. Ask me a series of questions about my home, preferences, budget, and skill level to build out a personalized profile. Why do you make me build out my home profile from scratch? Nice idea, but who has the time?
Relationship marketing learning opportunity #7: Don't reinvent the wheel. Take a step back, assess your company's unique strengths, and then create a personalized experience no one else can.
"My account" ideas for other industries:
Grocery stores — Set up automated alerts when saved items go on sale or become in season. Create shopping lists organized by department.
Car dealerships – Set up a personalized maintenance calendar with automated email reminders.
Department stores — Set up a personal shopper (AKA algorithm) who recommends items based on customers' tastes and past purchases.
Business services — Set up support forums, online appointment scheduling, exclusive content, track status of claims, or personalized performance dashboard.
Other industries — Give access to exclusive products, free returns, value-add services (free alterations), or video chat.
Want even more ideas? Talk to your customers. Watch them use your products or shop your store.
Related Articles