What's a picture worth to your bottom line? To generate more online revenue, there are endless opportunities to improve the customer experience.
Today, let's look at 12 ways to optimize your product images.
To help me put together this guide, I enlisted the help of freelance creative director / photographer Patrick Maun and founder of ThePatchery.com, Amber Gunn Thomas.
12 Ways to Improve the UX of Your Product Photos
Quality
There are 2 aspects to judging the quality of a product photo: technical and aesthetic.
Technically, is the image crisp or blurry? Are you using the right file format and resolution? These types of technical issues are easy to spot by an untrained eye.
Aesthetic challenges are more difficult to solve, as style and preference can vary from photographer to photographer. Yes, we all agree that a yellow overcast caused by fluorescent lights is universally bad — but what about natural lighting vs. artificial studio lighting?
Keep an open mind, and consider testing:
Lighting
Compositions
Mood / tone
Backgrounds
The photography from MingaBerlin pops off the page, the colors are so vibrant:

Thumbnail Size
There are competing best practices to juggle when considering how large your thumbnail images should be. You want enough white space to ensure the page doesn't look and feel cluttered. And you want tiny photo file sizes to ensure a screaming fast page load.
But… you also want your customers to clearly see the product. When thumbnail images are too small, the products become indistinct and uncompelling.
Assuming your page load time is not an issue, don't be afraid to make your thumbnail images a lot bigger — especially when you consider mobile and tablet screen sizes.
An extreme example of teeny thumbnails:
Zoom & Alternate Views
Nothing is more irritating than when the "zoom" image is exactly the same size as the product page image. When a customer clicks ZOOM, go big. Really big.
Additionally, be sure to show the back, top, bottom, inside, and the side of each product. Your customer can't touch and feel the product online, but more photography is next best thing.
If you have the budget, use video to demonstrate the product. Zappos uses a no-frills approach, if you're looking for low budget ideas.
Repetition & User Fatigue
If you have a product that comes in multiple colors or designs, think about the best way to display it on product listing pages. Scrolling through 30 images of the same sweater in 30 different colors will quickly create fatigue (and boredom).
Can you display one product image, but color swatches below? Can you break up the monotony by showing the same product worn by different models in different poses?
Cropping
Use strategic cropping to create focus and make it clear what you're selling. But be careful about cropping models' heads, hands, and feet. A headless model due to poor cropping is visually disturbing. (Also watch cropping for secondary subjects in the background, such as children and pets).
I really like that The Patchery uses photos sent in by real customers. It serves a dual purpose — social proof and customer inspiration. However, I suggested to Amber to consider re-cropping some of the images. In the example below, the subject and product (on the far right) feels lost against the large background.
From Amber: "I love this recommendation. Our objective was to show fit on real kids. Your recommendation would further optimize the experience while staying true to our original goal."

Photography Style
Does your photography use a consistent look or styling? If not, start there. A cohesive visual story creates trust and credibility.
To determine the right cohesive approach, testing is required.
Model or no model?
Dark or white background?
Silhouette or lifestyle?
In The Patchery's case, I asked Amber for her thoughts about testing real photography vs. illustrations.
"We have gone back and forth on this. The goal with the illustration is to get the customer in the creative mindset… to signal to them that they are creating with us. The positive of the real product is that the customer gets a much quicker read on what the product really is. I think an A/B is a great idea."
Context
Don't rely solely on the product description to communicate size, color, softness, or use. Show your product in relation to a common object to demonstrate scale (e.g., quarter, ruler). What does the same dress look like on someone 5'10" vs. 5'3"?
ModCloth sometimes uses real customer photos to show fit on multiple body types:
Product Details
Zoom in on the details. Seams. Pockets. User interface. Features. What else is inside the box. Packaging.
Show textile patterns up close. Zoom in to show texture.
Accuracy
Avoid returns and customer dissatisfaction by using honest photography. Ensure purple-red reads as purple-red, not orange-red. Also think about how to accurately portray size. Objects online may look bigger than they actually are.
If you're selling intentionally distressed products (e.g., antiques, repurposed wood) or an item with unique, one-of-a-kind qualities — zero in on the details that might be considered "flaws" to an uninformed buyer.
Good photography should convey strength, weight, quality, softness, or comfort. But not mislead.
Art.com does a good job solving of helping their customers understand scale: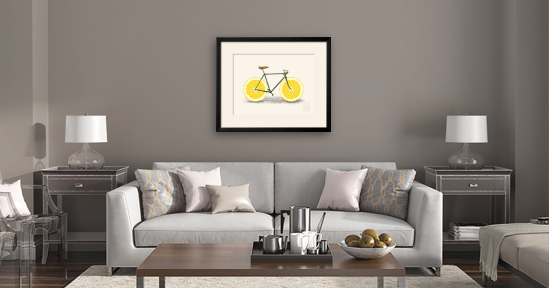 Alternative Uses or Inspiration
Are there other potential uses for your product? Open your customers' eyes to possibilities they've never considered before. Doing so increases its perceived value. What are some different ways to wear or style the product. Are there less traditional uses?
Talk to your existing customers for ideas, or have them provide the photography.
Storytelling
What's the story behind your products? How are they made? What's inside? What are the ingredients? Instead of writing about it, why not just tell that story with a photo?
Here's a great example of SHOWING handcraftsmanship from Grovemade: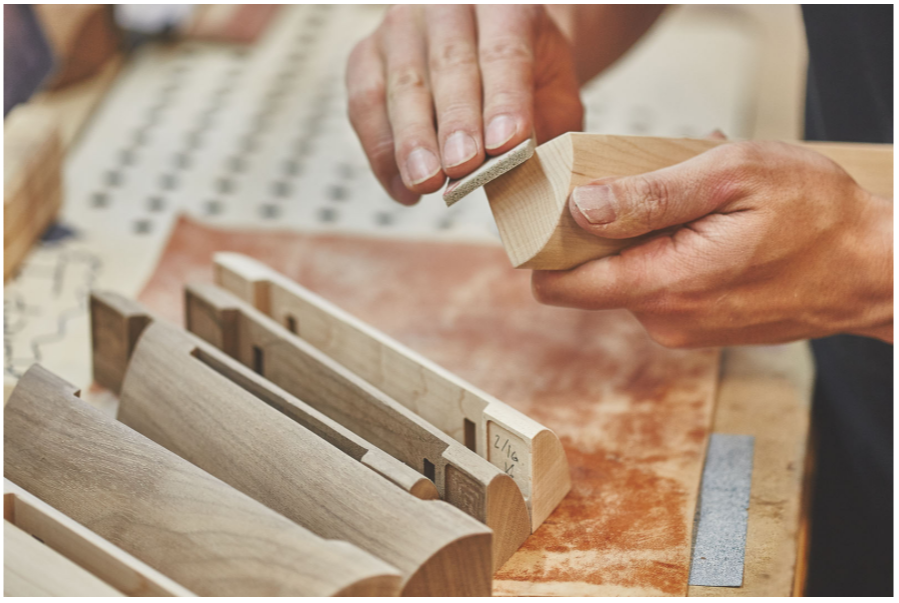 And one of my favorite examples from FiftyThree:
Load Time
Are your product images optimized for speed? Not everyone has broadband. Find the right trade off between the highest possible resolution, but the smallest possible file size.
Final Thoughts
When photographing products, also think about your marketing needs. Do you want to use lifestyle images on your homepage, but silhouettes for product images?
Keep in mind aspect ratios for various banner ad sizes, emails, blog posts, Pinterest and other social media, and mobile phones. Tall and skinny. Short and wide. Square.
Also think about leaving "white spaces" in lifestyle images to place headlines or CTAs. When using models (or when you're the subject), think about where the model's eyes are looking and which way their head is turned. Eye-tracking studies clearly show higher performance when the model looks directly at the product or call-to-action.
Business consultant Melanie Duncan gets it: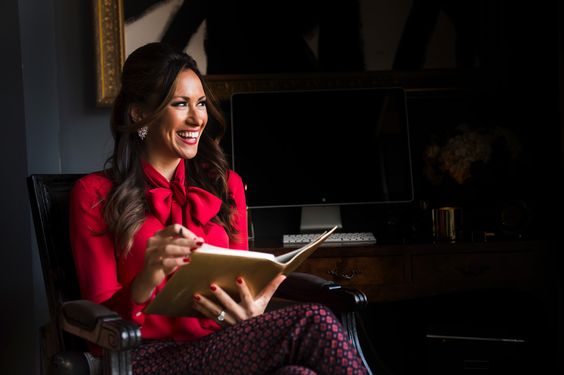 Include sketches with your image list to ensure you get exactly what you need.
Related Articles
UX-First Transactional Emails
What to Learn from Lowe's Relationship Marketing Mistakes
10 Hacks for Writing Stronger Web Pages